When shopping around for a CRM Dialer, there are many things to consider before purchasing.  Sometimes we look at the price, sometimes at features, and sometimes at functionality.  And there are always little things here and there between companies that are the same and some that are different.  It is those differences that make the difference.  
Let's take a look at Ninja Dialer vs Prospect Boss.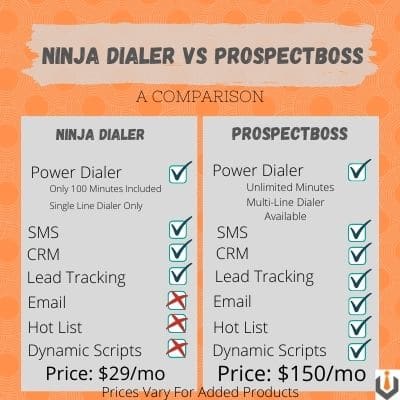 There are several similarities:
Power Dialer

CRM

Texting 

Ringless Messages

Local Presence

Reminders for Appointments 
But that is where the similarities end.  Ninja Dialer is a really good basic system.  Not a lot of bells and whistles but truly functional. 
Now to look at the differences!  
Ninja Dialer only offers a single line dialer but Prospect Boss offers a multi-line dialer up to 4 lines!! 

Prospect Boss offers Video Messaging and Video Emails helping to get your face out there and not JUST your name. 

Ninja Dialer may start out at only $29 per month but for that price, you only get 100 minutes of talk time…. That's not a lot and then you have to pay to add more minutes.  Prospect Boss starts out at $79 per month but you get UNLIMITED talk time. 

Ninja Dialer does not offer emailing.  Prospect Boss allows emailing from directly within the platform.  

Prospect Boss also has Dynamic Scripts so that your script changes based on the responses your contact gives.  

There is also the Hot List which scores your leads on a hot/cold scale so that you know who your hottest leads are at any given time. 

Prospect Boss also has integration with Facebook so that leads from there can be pushed directly into a campaign and are ready for engagement. 
With all of these state of the art features, you would be hard-pressed to find the same value between Ninja Dialer and Prospect Boss.